Former Michael Flynn Associate Convicted Under FARA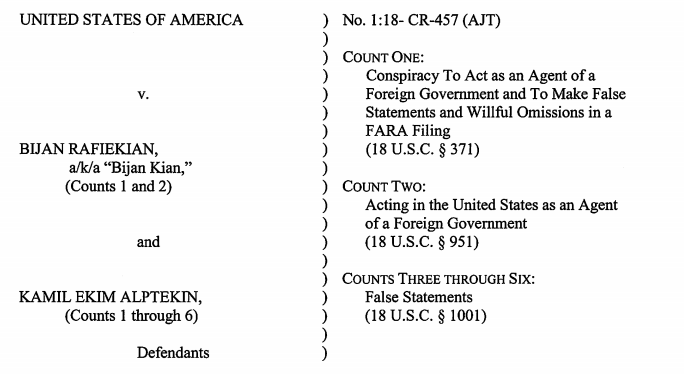 On July 23, 2019, a federal jury convicted Bijan Rafiekian (also known as Bijan Kian), a former business partner of Michael Flynn, of conspiring to file a materially false statement under FARA and of violating a statute that is similar to FARA at 18 U.S.C. § 951. The conviction represents a key victory for the Department of Justice (DOJ) as it seeks to more aggressively enforce FARA. As Assistant Attorney General John Demers stated following the verdict, "Through misrepresentations in his FARA filing, Mr. Rafiekian attempted to deceive the public and influence key leaders on behalf of Turkey. The Department of Justice treats these crimes with the gravity that they deserve."
Rafiekian ran a consulting firm, Flynn Intel Group (FIG), with Michael Flynn, President Trump's former National Security Advisor, which was hired in 2016 to advocate for the extradition of Turkish dissident cleric Fethullah Gulen. Prosecutors accused Rafiekian, who was also part of President Trump's transition team, of concealing Turkish government officials' involvement in the lobbying campaign on behalf of Turkish President Erdogan to expel Gulen from the United States. According to the indictment, Rafikian and his business partner, Kamil Alptekin, "conspired covertly and unlawfully to influence U.S. politicians and public opinion" concerning Gulen and sought to conceal Turkey's involvement in these efforts. The prosecution alleged that high-level Turkish officials approved the budget for the project and that Alptekin regularly updated them. FIG submitted a retroactive FARA registration on March 7, 2017, that among other alleged omissions and false statements, listed Alptekin's Dutch company, Inovo BV, as its only "foreign principal" and indicated that Inovo BV was not supervised by a foreign government or other foreign principal.
Rafiekian's defense attorneys insisted that there was no actual agreement with or direction by the Turkish government to influence American policy, arguing that prosecutors could not demonstrate that Turkey paid for the project. The defense also asserted that the project was funded and directed by Inovo BV, and that Rafiekian did not have the criminal intent required to establish a FARA violation, instead relying in good faith on "erroneous legal advice" in his failure to file as a foreign agent.
Prosecutors originally planned to have Michael Flynn testify, but decided against it after Flynn refused to admit he lied about the Turkish project and claimed he had not read FARA filings he submitted to DOJ. Flynn and Rafiekian's firm received $530,000 for its work on the effort.
It remains to be seen whether the verdict will stand; U.S. District Court Judge Anthony Trenga, who described the evidence against Rafiekian as speculative and circumstantial, has set a hearing on September 5 on Rafiekian's attorneys' motion to throw out the jury's verdict. If the verdict stands, Rafiekian faces up to 15 years in prison.
The Rafiekian case was the first to go to trial since DOJ began its more aggressive crackdown on FARA violations. The conviction is the 44th criminal case to reach resolution in FARA's history. The conviction illustrates the difficulty of defending FARA cases—the statute is exceedingly broad and alleged foreign agents are often unsympathetic defendants. The conviction could embolden the Department of Justice to prosecute more FARA cases in the future.
An Informational Resource in a New Era of Foreign Agents Registration Act Enforcement.
Search
Bios
Jump to Page